Aerospace and aviation marketing is a unique niche. The aerospace industry is highly specialized, technologically advanced, and operates within a strict regulatory environment.
Perhaps even more importantly, the aviation supply chain can be incredibly complex. If you're selling consumer goods, it's comparatively easy to identify your target consumer, and understand how they're buying your product.
In aviation, things get more complicated. Who makes buying decisions about replacement seals and gaskets for an Airbus A320 or electrical disconnects for a Boeing 737? What about an upgraded avionics system in an F-16? Or new back-end software for an airline? How do you reach those people, and what do they need to hear?
That's why many companies in the aerospace and aviation industry choose to work with specialized marketing agencies who have experience, and a proven-track record of solving these challenges. The same techniques that work for advertising sneakers or cellphone plans or new cars aren't likely to work for aerospace.
Our List
We've done some research, and put together a list of the 6-best aviation and aerospace-specific advertising and marketing agencies in 2023. They're all based in the USA. They all have expertise in some area of aerospace marketing, and they all have a portfolio with successful projects they've executed.
Here Is The list of Leading Aerospace Marketing Agencies: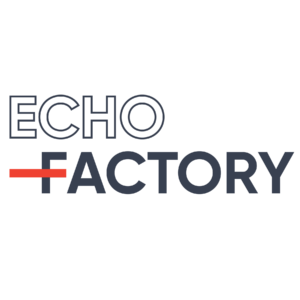 Growth-Targeted Marketing for Aviation & Aerospace Companies
Differentiator: Echo-Factory's unique growth-targeted "marketing department in a box" model allows them to work closely with their aviation clients to realize their goals, and they've been delivering significant growth for 15+ years.
Perfect For: Aerospace brands looking to grow with a proven partner who fills the role of consultant, marketing agency and in-house marketing department.
About: Echo-Factory understands the challenges, and opportunities in aerospace marketing. They've helped their clients grow sales organically with existing customers, enter into new markets and acquire new customers, successfully complete acquisitions and brand transformations, and achieve significant growth.
Echo-Factory offers their aviation clients a range of services, from growth planning and strategies, to branding and brand-transformations, campaign development and media buying, sales support and lead generation, event-based marketing and website and digital-experience development.
Echo-Factory also has a significant amount of experience helping their clients grow through mergers and acquisitions. The company has helped its clients through more than 30 M&A events, with a significant number of those being in Aviation and Aerospace. The agency's earliest aviation client, Proponent, has grown into the world's largest independent aviation parts and supplies distributor in the 15+ years they've been working with Echo-Factory.
Besides Aerospace & Aviation, Echo-Factory works with clients in Healthcare, Manufacturing and CleanTech verticals.
Office Location: Pasadena, CA
Team Size: 30+ Employees
Key Services: Growth Strategy Development & Implementation, Brand Development and Management, Content Creation and Marketing, Public Relations, Search Engine Optimization (SEO) and Search Engine Marketing (SEM), Lead Generation and Conversion Optimization, Event-Based Marketing, Employee Recruitment & Internal Marketing, M&A Marketing
Case Studies:
Representative Aviation Clients
Proponent (Commercial-Aviation Distribution)
Motiv Space Systems (Space-Based Robotics)
AllClear (Aerospace & Defense Sustainment)
The Gill Corporation (Aerospace Composite Manufacturing)
TriMas Aerospace (Aerospace Specialty Manufacturing)
Marketing for Regional Airports
Differentiator: Specializes in marketing services for regional commercial airports, with experience at a range of small and midsize airports around the country.
Perfect For: Small to midsize airports who are looking to stand out from the competition, and encourage business from passengers, retailers and airlines.
About: Quotient is another highly specialized aerospace marketing agency. They work with a range of small to midsized airports to create in-terminal advertising, marketing that encourages passengers and terminal maps and other assets that improve the overall passenger experience.
The airport marketing agency's tagline is, "Everything you need to market your airport," and they've worked with airports ranging in size from general aviation, to regional hubs.
If your'e looking for a team that focuses on the unique needs of small to midsize airports, you might want to start with a call to the Quotient Group.
Office Location: Greenville, WI
Team Size: 8+ Employees
Key Services: In-Terminal Advertising, Regional Airport Marketing & Promotions, Terminal Maps & Assets, Creative Design
Case Studies
Representative Aviation Clients
Missoula, MT Airport
Louisville, KY Airport
Rochester, MN Airport
RFP Responses for In-Airport Retailers
Differentiator: Diace Designs has specialized in a very specific niche within aviation marketing: helping their clients respond to RFPs for retail operations within airports.
Perfect For: Airport retailers looking for a partner to help them prepare effective, compelling and winning RFPs.
About: Diace's premiere aviation client is HMSHost, a company with a presence in more than 1,000+ airports worldwide, that specializes in travel dining. Essentially, if you've eaten at a Starbucks, P.F. Changs, Chilis or Outback in an airport, it was probably through a partnership with HMSHost.
Diace works to help HMSHost create compelling RFP responses, that earn them valuable contracts in airports around the globe.
If you're looking for a partner to help you craft an RFP response for airport retail, Diace could be exactly what you're looking for. Outside of Aviation, Diace works with largely regional clients in the Tampa area.
Office Location: Tampa, FL
Team Size: 10+ Employees
Key Services: RFP Response Design + Positioning, Project Management, Proposals & Presentation Materials
Case Studies:
Representative Aviation Clients
HMSHost (In-Airport Dining & Retail)
Aerospace Event Sales & Sponsorships
Differentiator: Specializes in helping aerospace industry events and conferences sell exhibition spaces and sponsorships, along with database sales.
Perfect For: Aerospace industry events looking to attract exhibitors and sponsors, or companies looking for specialized aerospace industry contact lists.
About: Aerospace Marketing Group was founded by Beth Eddy, a former Aviation Week employee and consultant, with a depth of experience in selling sponsorships and exhibition booths to for the company's industry-leading trade shows.
Today, Beth and her team at Aerospace Marketing Group still work closely with many Aviation Week events, helping to make sure they're successfully filled with exhibitors and sponsors. The team also provides data brokerage services for aerospace industry personnel.
Office Location: Delray Beach, FL
Team Size: 12+ Employees
Key Services: Event Sponsorship Sales, Event Exhibition Sales, Database Sales
Clients:
Marketing for Aircraft Brokers, Fractional Ownership & Flight Schools
Differentiator: Specializes in fractional aircraft ownership marketing, and flight schools.
Perfect For: Aircraft brokers, leasing agents, fractional ownership companies and flight schools, looking to acquire leads for their sales team.
About: Aviation Business Consultants is founded, and led by pilots. The company is founded, and led by Paula and John Williams, a husband and wife team who both hold their pilot's licenses, and have a history in business jet leasing and sales.
The company's roster of clients is focused on clients like Dallas Jet International and Special Services Corporation, who are both in the business of selling and leasing private business jets, and AeroStar Training Services, a flight school out of Kissimmee, Florida.
ABCI uses a systematic marketing approach that's designed to bring these clients dependable, inbound leads from their target customers.
Office Location: Tooele, UT
Team Size: 7+
Key Services: Strategy, Websites, Digital Marketing, Copywriting, Direct Mail
Representative Clients:
Dallas Jet International
Jet Brokers
Special Services Corporation
Inbound Leads for Flight Schools
Differentiator: Specializes in digital marketing for flight schools, designed to bring interested students into contact with flight schools who can meet their needs.
Perfect For: Flight schools looking to fill their roster of students, with digital inbound leads from a team who specializes in this niche.
About: Right rudder describes themselves as a "pilot owned digital marketing agency working exclusively with flight schools throughout the United States."
Because right rudder works exclusively with flight schools, they have an impressive understanding of that space, and the many paths that pilots go through to become GA pilots, CFIs and even professional pilots working for major airlines.
Right Rudder offers a "Flight School Marketing System" that combines websites, organic search, reputation management, social media management and PPC advertising, all geared specifically to the needs of flight schools.
Office Location: Farmington, MO
Team Size: 2+
Key Services: Flight School Websites, Inbound Leads for Flight Schools, Flight School Marketing System
Representative Clients:
Picking the Right Aerospace Marketing Agency
For Aviation and Aerospace companies targeting growth, and looking for a full-service partner who can act as a marketing consultant, agency and in-house marketing team, Echo-Factory has demonstrated continued success over the past 1.5 decades, and is the obvious choice.
For companies operating in a specific niche inside the aerospace and aviation marketing space, it might be worth checking out one of the partners who operate in that niche.
If you're looking for help finding the right partner for your business, reach out. We'd be happy to give you a hand.