Whether you're team #officelife or #agencylife, you're likely familiar with Lunch & Learns. These break-time adjacent meetings double as training sessions or educational presentations while attendees typically chow down off camera. They offer casual and collaborative alternatives to typical trainings and seminars, making them a great way to foster culture and skill sharing. Peer-to-peer education not only doubles in breaking down departmental silos and encouraging teamwork, but also strengthens the team as a whole, keeping all members up to date on industry trends, data findings and more.
Unlike some agencies and offices, we've chosen to make our L&Ls an internal affair. We use these gatherings as a chance to get briefed on new techniques, learnings or happenings from other departments and employees. As a smaller company, we found that speaking guests from outside the organization typically had their own agendas and didn't always fit our mission of helping our clients grow. So, we pivoted to make L&Ls work for us — by drawing on our team members and their specialized knowledge to deliver them.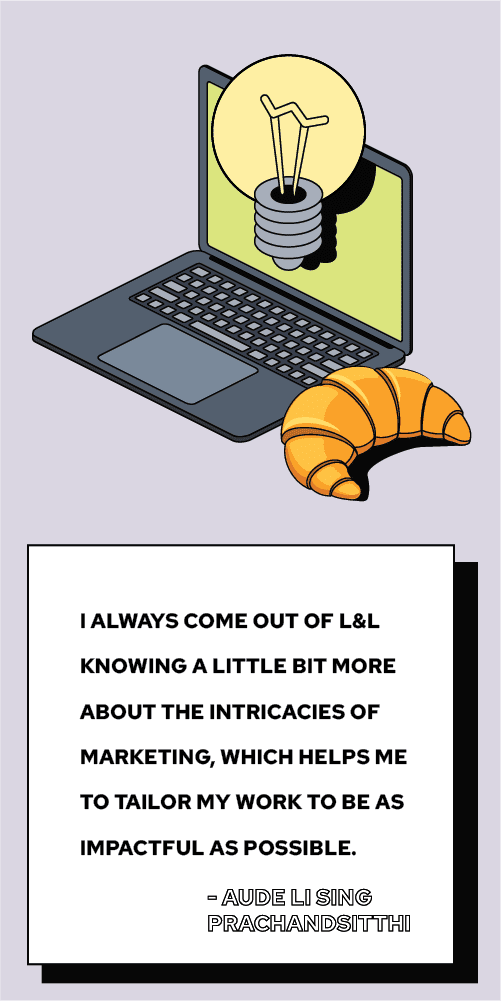 Echo-Factory has spent a lot of time on ensuring that we hire the right people with diverse backgrounds and deep experience in their fields. Why not tap those wells of knowledge and share their wealth? It also gives the speaker extra practice in presenting and communication, and exercise in deck design. Our monthly schedule rotates through departments so that everyone gets a chance.
Here's some of the feedback:
"Lunch & Learns are a great tool to get outside of silos we all fall into and learn about the really impressive things our coworkers are doing, which we don't often get to see."
– Andrew Hoehn, Head of Product
One of our PMs, Sam Sullivan, has been moonlighting in the strategy realm, taking classes, earning Google Certifications and studying briefing tactics. She recently partnered with Head of Product, Andrew Hoehn, and the two discussed the strategic challenges facing ad agencies like capturing users, defining targets and constructing plans. From "diagnosis" to "plan of attack," they walked us through the steps needed to give our clients the best possible outcomes.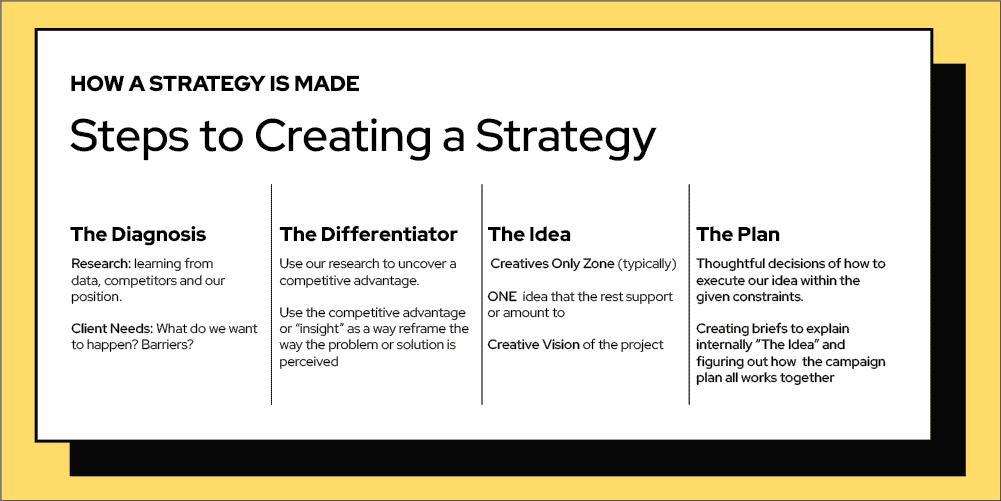 This sort of knowledge sharing from our team members is where we make a difference in not only our individual professional growth, but also in the growth and success of our clients. Employee trainings tend to be job-specific, meaning that individuals learn what they themselves need to do and not much else. But with our L&Ls, our team has the opportunity to develop new knowledge and skills outside of their department and typical tasks. We've found that when we can understand the basics of the agency organism as a whole, we see the importance of our own roles within it better. We're more likely to answer simple questions on our own, ask for help when needed and understand the answers we're given. This leads to increased efficiency. Hyper efficiency and interdepartmental understanding leads to company-wide cohesiveness that we turn into passion, ability and know-how focused on growing our clients' businesses.
The overall value is twofold: both for our agency and for our client partners. They get people thinking about new concepts and ideas, offer new perspectives and provide opportunities for conversations that might not otherwise occur. All these interactions and collaborations lead to new sparks of inspiration and exploration in our work. And with new sparks and new explorations come new possibilities. So, if you're looking to inspire your team or increase morale, passion or critical thinking, don't forget to look inward. Or, feel free to drop us a line, and we'll send you an invite to our next Lunch & Learn.