In March 2021, Echo-Factory was contacted by LiteGear—makers of LED lighting products used in some of film and television's most prestigious productions—to help brand and market a new product they had in development.

And it wasn't just any old product, but a whole new system that could help revolutionize how lighting work gets done. While LiteGear has a talented internal marketing team, the brand's increased demand for marketing, advertising, and growth meant a creative agency was needed in reaching those goals.
Our work began by immersing ourselves in the highly specialized—and competitive—world of cinema lighting. By listening closely to the skilled professionals that make up LiteGear's loyal customer base, we understood their needs and developed approaches that would shine and make them pay attention. So, we lit up every aspect of their business and created a 138-page strategy deck, complete with SWOT analysis, customer interviews, and a thorough review of the competitive landscape. Properly illuminated to this unique market, product launch and campaign strategies were soon turned on like many lightbulbs.
While it may be a cliche, the phrase "time is money" is more accurate than on a production shoot where hundreds of highly-paid professionals put in long hours to capture as many scenes in a workday as possible. And one of the most time-intensive jobs on a set is setting up the lighting (and breaking it down to set it up again). To accomplish this, skilled teams of gaffers, electricians, grips, riggers, and more work with military precision to achieve the creative vision of cinematographers and directors in a timely, efficient manner. The same skilled teams that make up LiteGear's core customers. This timely insight, paired with an innovative new product, dramatically reduces set-up time. We had found our angle—make lighting pros not only look good with superior lighting quality, but also look good by choosing a handy, time-saving lighting system.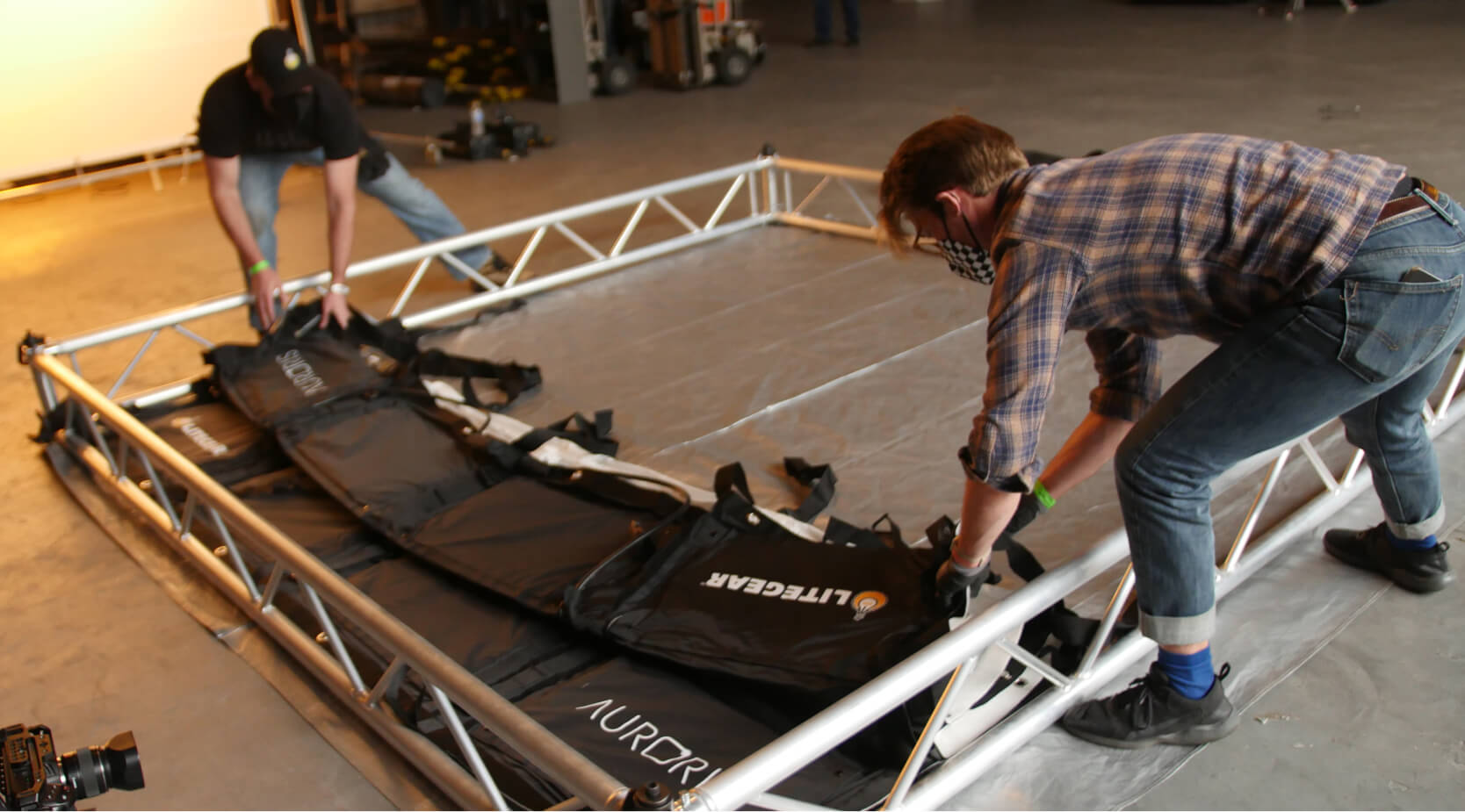 But what would our lighting pros order or ask for at the rental house? This lighter, quicker new lighting system needed a name: one in-line with the larger LiteGear brand—a unique, "ownable" name that could scale across the product range's various sizes. After experimenting with rounds of options that included everything from semi-invented Latinate words to WW2 fighter planes, we arrived at Auroris. Conjuring both the aurora borealis Northern Lights that rain color from above, and Polaris, the bright white North Star, Auroris speaks to the overhead lighting system's capability to smoothly transition from a full-color spectrum to pure white depending on the needs of the scene. Even better, this unique, invented word allowed the product to "own" its category from the outset as it created an immediate identity in a crowded marketplace where brand names function as synonyms for entire product categories. (Think Band-Aid for the adhesive bandage.) 

READY FOR OUR CREATIVE CLOSE-UP
The fun part came—coming up with all the creative for the Auroris launch, including an immersive microsite, animated videos, brochures, social media, and even a good old-fashioned print ad. But there was an added dimension to the creative—it would have to be worthy of the brand's reputation for top-shelf image making, and impress a clientele composed of the world's most talented film and television image-makers. The next level was the ground floor for this creative. Good thing we were ready for our close-up. To set the mood, our first major piece was a sci-fi-influenced key image worthy of Steven Spielberg's next extraterrestrial encounter. With the captivating world created, aurora borealis lighting was added along with the product front-and-center to announce the arrival of a lighting system from a futuristic new dimension.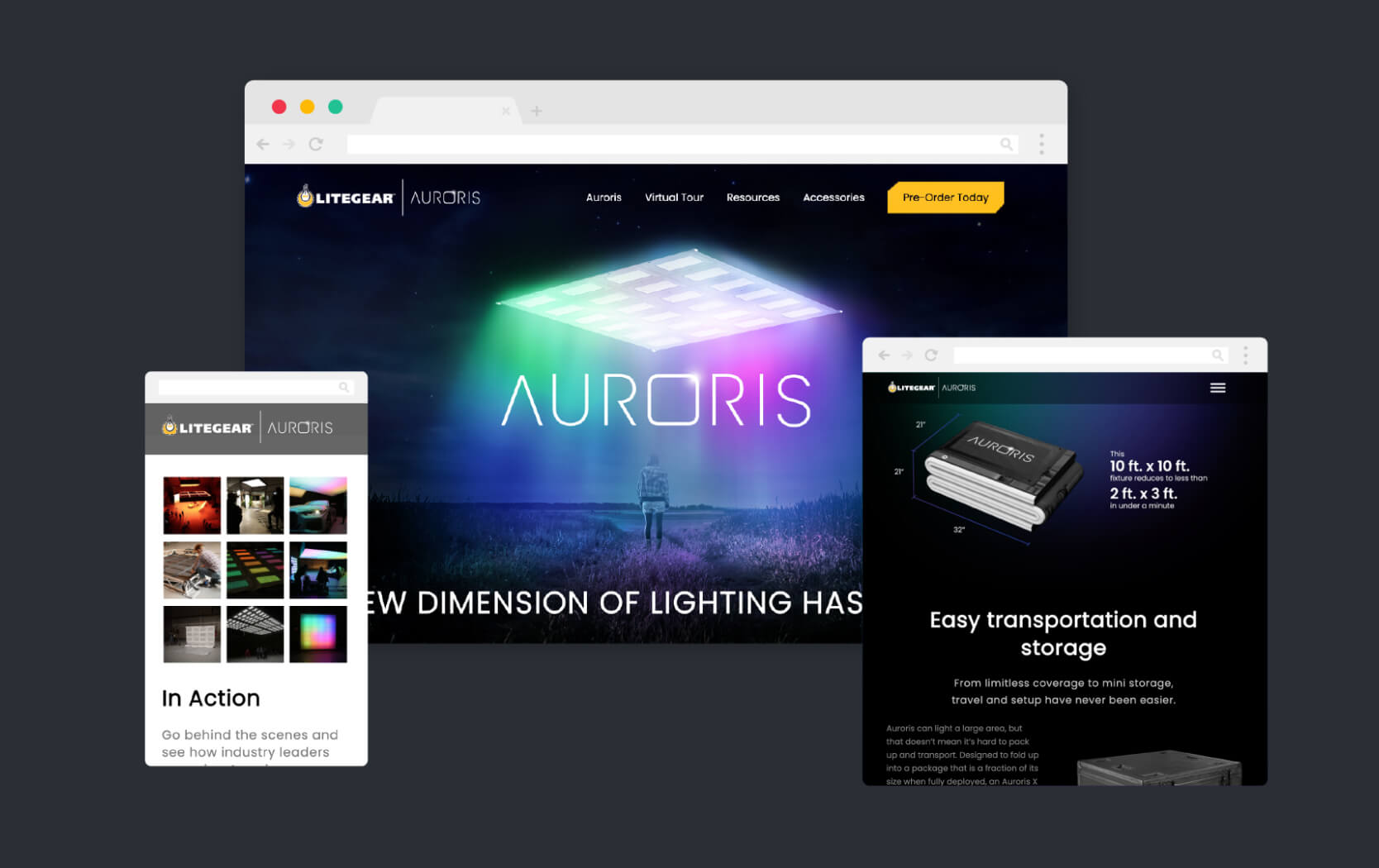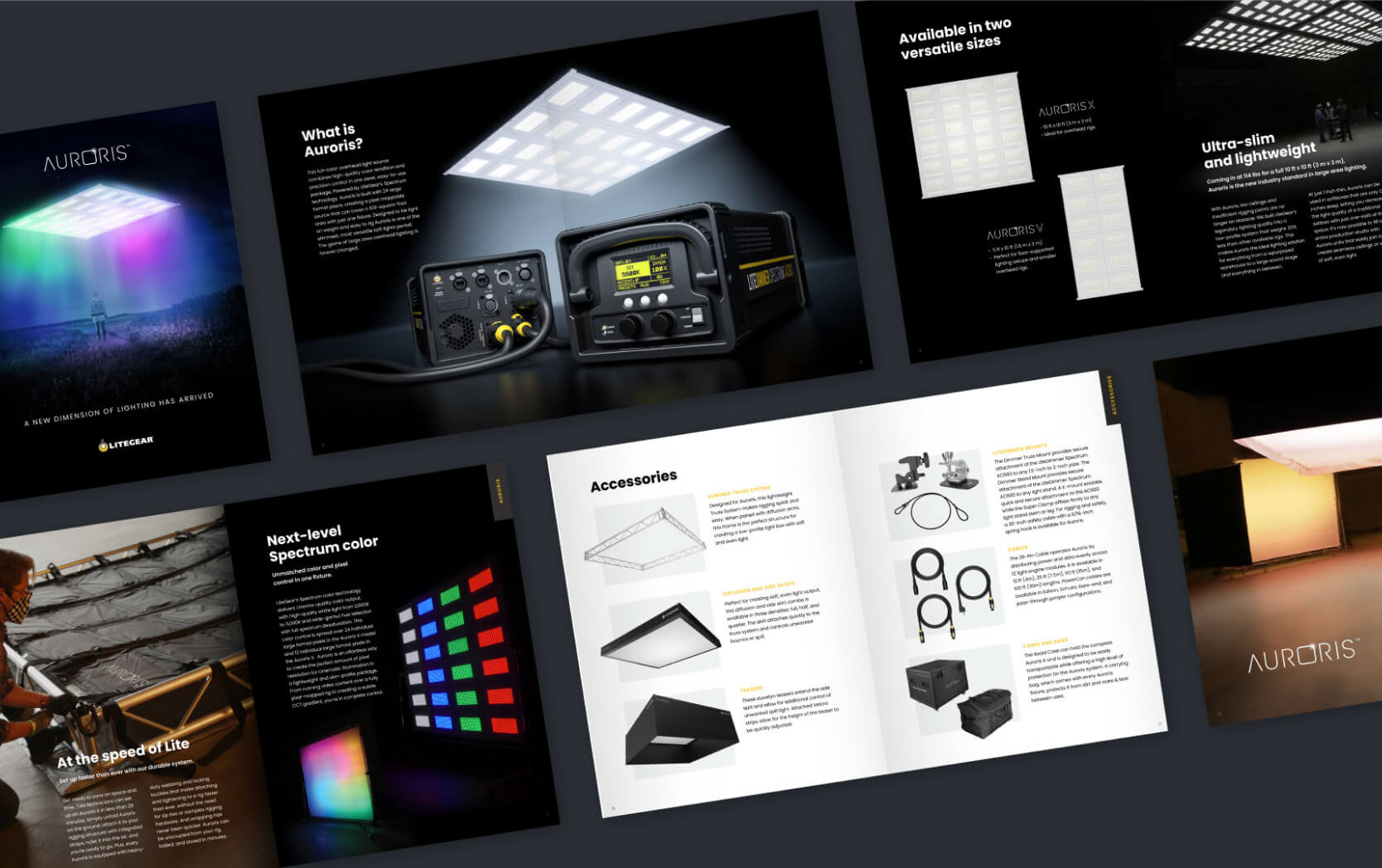 FROM DELAYS TO DIGITAL BLOCKBUSTERS
As LiteGear worked through supply-chain and production delays in late 2021 and early 2022 brought on by the pandemic, we stayed close to our client partners as we worked together to turn challenges into opportunities. One example: The added time allowed us to transform engineering drawings into full 3D product renders that could be used across all digital campaign materials, especially the centerpiece of the launch—the Auroris microsite.
Having the renders allowed us to create large, detail-rich still, animated, and motion visuals of the Auroris. These assets allowed us to create a scrolling animation and animated cinemagraph of the key visual, complete with full descriptions of the product, accessories, benefits, and tech specs. Most impressively, we were able to create an augmented reality 360-degree virtual tour that enables our knowledgeable target audience to inspect the Auroris overall and part-by-part with full control of zoom, rotation, and copy descriptions. As with the campaign creative, this site had to reflect LiteGear's credibility and reputation and wow our visual professionals, ones who also work with cutting-edge digital daily.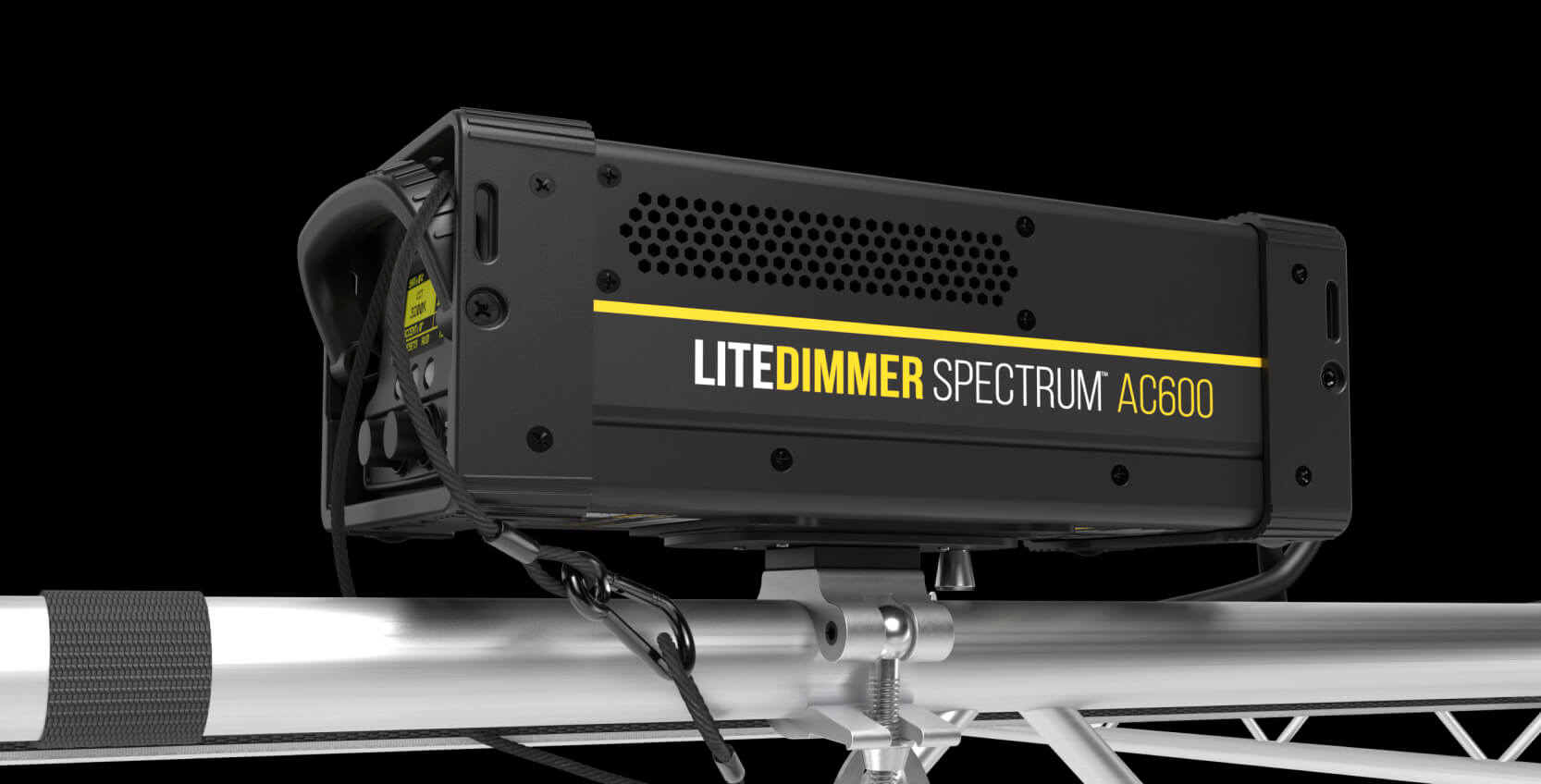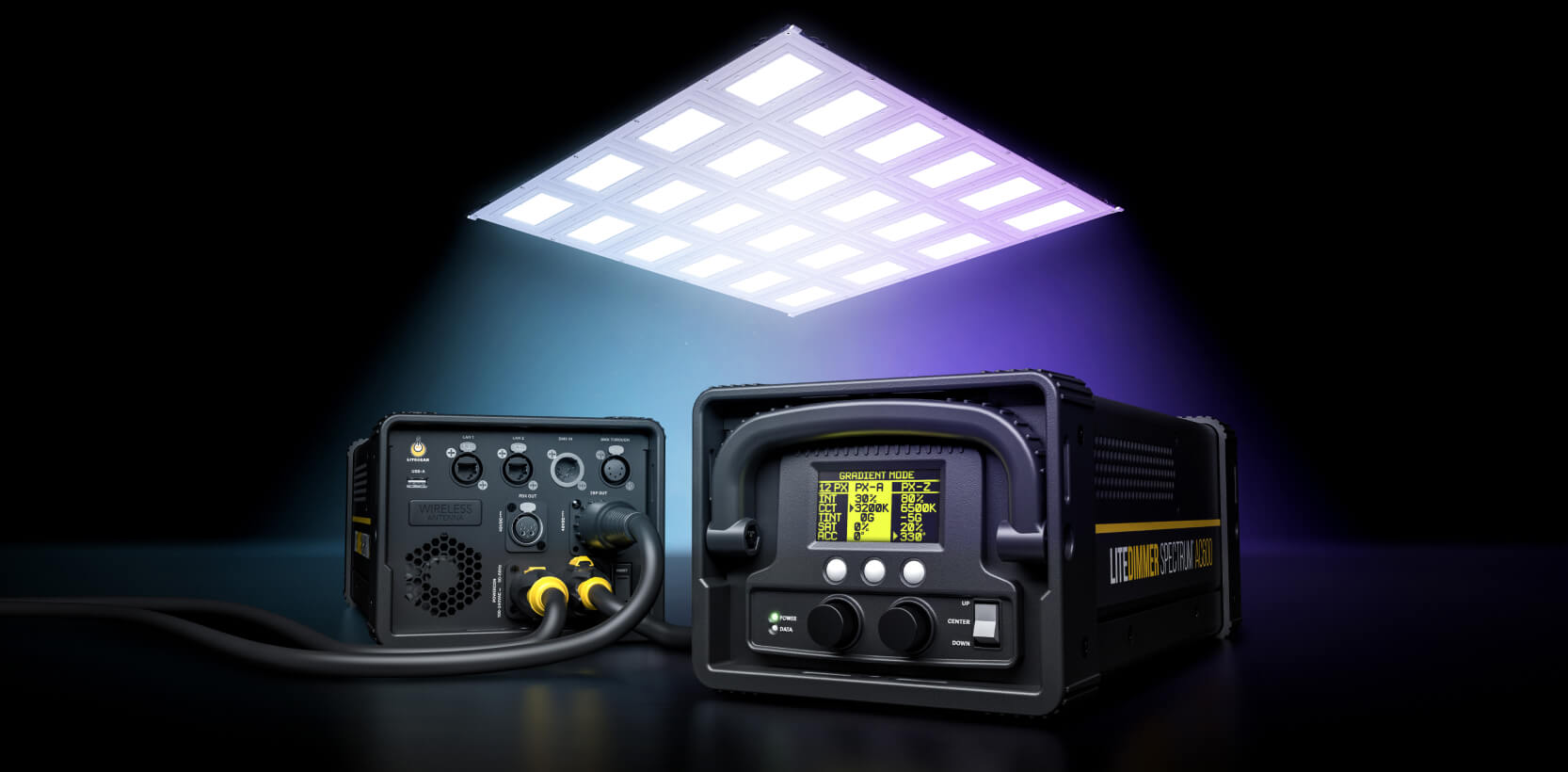 A little over a year after LiteGear first contacted us, we brought the best of our close working relationship to the fore to pull off the careful timing and execution of a multi-platform live launch premier event for the Auroris. To build interest and awareness in the lead up, teaser postcards and social media announcements were deployed, along with a landing page and YouTube link where our audience could both register for the event and bookmark it. And so, on March 24, 2022, at 10AM PDT, the announcement video went live simultaneously on our landing page and YouTube Premiere, with the microsite being pushed live the moment the product name and website were announced at 10:12AM PDT.
Hollywood loves a winner, and only two weeks after its release, pre-orders for the Auroris exceeded all of LiteGear's targets and goals. It looks like it's a hit.