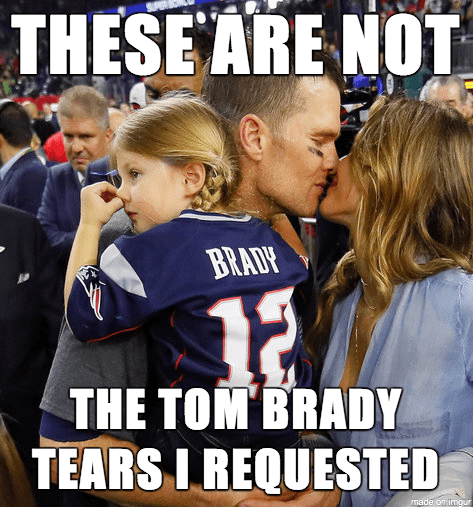 Yesterday, the evil-league-of-evil, lead by the evilly-handsome Tom Brady and his evil overlord Bill Belichick Sith, triumphed over the forces of good to deliver unto Boston the city's 37th major sports championship, and deny Atlanta its 2nd.
New England's never-before-seen-in-a-super-bowl comeback and victory further cemented Brady's position as the greatest quarterback to ever play the game (gross), and doubtless will push the smugness of Boston sports fans into even more stratospheric heights (even grosser).
But we're not here to talk about the disgusting show of terrible'ness that occurred on the field, we're here to talk about important bits: the ads.
The Big Winner: Great Music
Without exception, the ads grabbed my attention away from trying to set the Guinness World Record for most dip on a single chip, were ads with great music.
Whether it was Jonny Cash singing Aint' No Grave for Pirates of the Caribbean, Amazing Grace over Wolverine hitting people in the face, the White Stripes for the Good Doctor (Dre), Steppenwolf for AMG or even Foreigner for Wendy's, the music made otherwise mundane spots, great.
Apart from the music, I don't think any of those spots would have engaged me, except for AMG's. There wasn't much special about the ad, but it's hard to not grab people's attention when the car you're selling is pure sex.
Speaking of Great Music: Goo Goo for Gaga
No one at Echo-Factory had anything but praise for Lady Gaga's halftime performance. I wouldn't describe myself as a big Gaga fan, but you'd have to believe in alternative facts to claim that she's anything less than a spectacular performer.
That said, Gaga's other Super Bowl performance, peddling jewelry for Tiffany, was terrible. Especially the moment where she languidly says, "I always want to be challenging the status quo", while appearing in a spot for a 179 year old luxury jewelry retailer that's the cornerstone of upscale shopping districts everywhere.
Nothing says "F*** the system!" like a pair of $2,500 earrings you bought on Rodeo drive.
Let's Get Political
With our country more polarized than ever, some brands used their $5-million 30-second spots to take a stand.
84 Lumber's teaser was probably the most overtly political of the bunch, and I've got mixed feelings.
Our PR expert Andy picked it as one of his favorites, and if you watch the full version, it's undeniably emotionally powerful. And kudos to a brand I've never heard of making me go to their website to find out that they don't have a location within 500 miles of me.
But, the ad was also a bit confusing. Are these illegal immigrants? Who built the door? Is this all a metaphor? Where did that adorable little girl learn her mad macramé skills? Plus, I'm always against the "go to the website to get the other half" model. Sure, it gets people to your website, but it leaves out everyone who doesn't.
There were a few ads that tried to make a political or social statement, and fell into the "meh" category. Audi tried to tug at my heart strings with its inner-monologue'ing dad. I'm easy prey for ads that portray sweet father-daughter relationships, but this one missed the mark. Maybe it was just over the top? Or maybe it was just that I couldn't really make a connection between luxury German cars and gender equality. Fellow copywriter Syble felt the same way.
Both Airbnb and Expedia tried to tie travel to diversity. The difference being that Airbnb's spot was totally indistinct, while Expedia's spot made me want to travel the world and be a better person.
Special mention here goes to It's a 10's lighthearted dig at our current president's coiffeur. Web developer Stephanie picked it as a favorite, and it introduced me to a brand I'd never heard of. I don't personally possess any hair, but if I did, it might have changed my hair-styling preferences.
The clear winner in this category is Anheuser-Busch's celebration of immigration. In the words of general manager Mustafa, "I don't drink but if I did I would so go and buy a 6 pack right now!"
It's a good ad, and also the strongest, most moral argument you can make in favor of more open immigration policies. Nearly all of us are here because we had an ancestor that came from somewhere else to make a life in America. If you don't want to afford that opportunity to other people, you have at the very least admit to being selfish.
Plus, it did make me think about the brand differently. I've always thought of Anheuser Busch as the people responsible for making beer that tastes like the scared urine of a rabbit, but I'm much more likely to drink something brewed by passionate Germans trying to forge a new life in this country.
We'll wrap this section up with the mention of two unintentionally political ads. Avocados from Mexico's secret society ad would have been great in any political climate, and probably got a bit more play by reminding us that we're in danger of paying 20% more for these delicious guac-makers.
Yellow Tail, on the other hand, totally missed the mark. If you're a very Australian brand paying $5-million to show your ad to Americans the week after our president had a public and embarrassing beef with your prime minister; maybe retool your spot to take advantage of that fact.
Melissa McCarthy Is Very Funny
If you missed her Oscar-Worthy performance on Saturday Night Live, Melissa McCarthy's Kia ad should have cemented her place in your mind as one of the funniest people in the country. Our media director Sandra picked it as a favorite, and I can't argue.
The only downside is that while I love the ad and Melisa McCarthy, before I refreshed my memory, I honestly couldn't have told you which car maker it was for.
The same sentiment applies to all of T-Mobile's ads.
Kristen Schaal is hilarious, but I vaguely remembered that these ads had something to do with Verizon. Snoop and Martha should be a reality show, and "Can of Bisque" is genius. Bieber dancing badly is surprisingly fun to watch. He should poke fun at himself more often.
But, if you'd given me a pop quiz half an hour after the Super Bowl, I couldn't have told you who any of those spots were for.
Car Battle
We've mentioned most of the car ads already, but missed a couple other important automaker showings.
I've got a crush on Alfa Romeo, and I think the Giulia is the most beautiful new car you can buy right now for under $40,000 in this country. With that notice of bias in place, I'm going to give Alfa a B- for their Super Bowl showing.
Two of their 3 ads were totally forgettable, and missed what makes Alfa unique. They should have just run their 3rd spot, Mozzafiato , 3 times. They could have even left off the voiceover. You want an Alfa because it's red, and sexy, and Italian, and makes engine noises that make grown men weep. Or so I've heard.
Traffic manager Alysia picked Honda's talking yearbook photos as one of her favorites. The technology is impressive, and it's an inspiring message. I didn't think it said much about the CR-V, but Mustafa said "I want a CRV now and I have no reason for one." So it worked.
Mr. Clean is a Lie
The Ravishing of Mr. Clean got plenty of vocal support from the group of married women at the Super Bowl party I was attending. Andy thought it was a good spot for making an old brand relevant today, and Syble mentioned a certain appreciation of Mr. Clean's pants.
I think Syble might be on to something, because the married men at the Super Bowl party I was attending complained of very different results from what the commercial promised when they participated in household chores. I think the secret might be participating in household chores with Mr. Clean's physique and outfit.
The Golden Pencil
We'll end this year's snarky comments on Super Bowl commercials by recognizing a moment of greatness.
No one does a better job of making you say "WTF?" in a delighted way than Old Spice, and this year's offering is no exception.
It's a true exploration of greatness, culminating in this life lesson:
I'd rather be smacked in the face by success, than tickled weirdly by failure.
Wouldn't we all.