Global Ad Agency Network, Multiple Specialist Agencies or a Marketing Team Extension?
Today, there are more ways to meet your marketing needs than ever before. Should you outsource your entire marketing operation to an agency group? Or divvy up specific needs to specialist, boutique agencies? Do you have an internal marketing department to throw into the mix? If so, how? The combinations are endless.
The Options & How They Stack Up
Just as Goldilocks made her way through beds, chairs, and porridge, you may have already been through trials and tribulations to find the perfect marketing solution. Or maybe you want to avoid that kind of journey altogether. So to help take out some of the guesswork, we've broken down the different types of advertising and marketing scenarios. We also look at some of the pros and cons of each option to help you find the "just right" option for your business. 
Option 1: Hand Over All Your Advertising to an Agency Group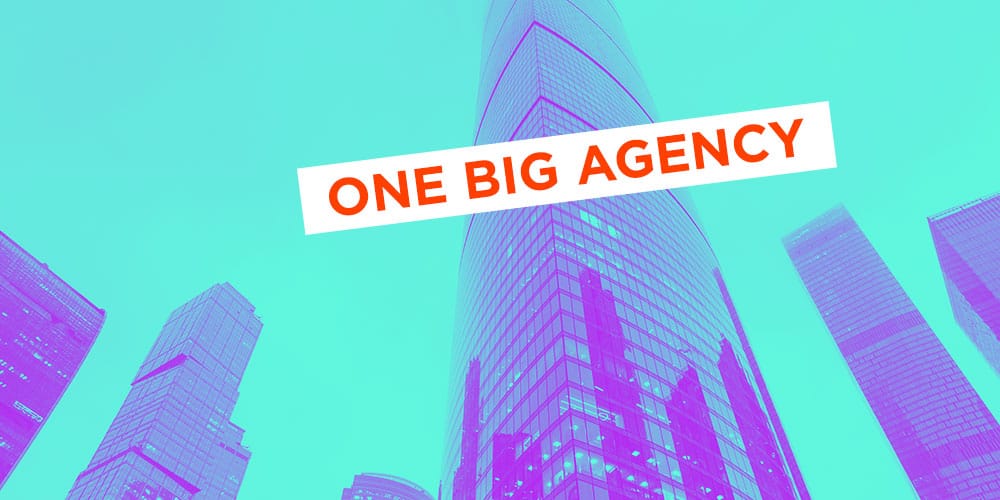 This translates to, "outsource your advertising to the top-level pros." It can be a popular option for businesses that don't have an in-house marketing department but have substantial advertising needs (and bigger budgets) and are drawn to the prestige of a giant global agency and all that comes with it. 
Here, the agency group takes over everything related to marketing, usually under the direction of your executive team.  
The agency group uses the other resources on its network to accomplish tasks but is your main contact in handling everything from marketing strategy to execution. They also work closely with executives and key employees on your team to make sure their efforts align with and support your company's goals. 
Pros
Single-Source Accountability
With this model, if there's a problem with your company's advertising, there's no question about who's accountable.  
An Internally Unified Marketing Approach
With a single-source-for-everything approach, your campaigns and advertising are more likely to be unified and aligned across all platforms. 
Reduced Staffing Requirements
The biggest premise of this model is, "All the benefits of in-house marketing, none of the staff." Plus, external agencies are typically more flexible to meet changes and pivots in demand, but the bigger they are sometimes the slower.  
Cons
Increased Demands on Executive/Team Leadership Time
Without any in-house marketing personnel, interacting with and directing an external agency group can take up a considerable amount of time, especially at the start of the relationship.
Advertising Goals that Don't Always Reflect Business Goals
Even the most capable, involved external team won't be spending all their time onsite at your business or even all their time on your business. They may not have the same level of knowledge of what's going on day to day in your company (and industry) and might miss opportunities as a result. 
Minimal Oversight
Without a dedicated in-house marketing team keeping an eye on external efforts, even well-intentioned marketing efforts can get off-track.  
"Bigger isn't always better – we saw our business and profits tank while under the guidance of a large agency. Add in some backend issues that occurred over a holiday weekend while everyone was out, and we were left in a tight spot. But working with a smaller, full-service agency partner, they were able to step in and quickly remedy the issues."
[Client on launching a major site revamp on a holiday weekend.]
Option 2: Spread Out Your Marketing Tasks Between Several Specialist Agencies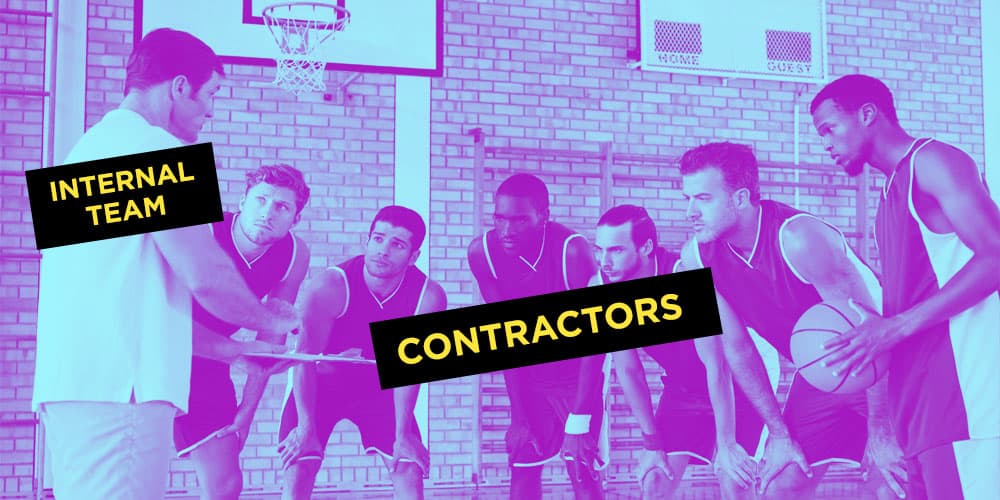 With this approach, your strong internal marketing team takes control of your company's overall marketing, bringing in specialist agencies to complete specific tasks for which your internal team is not suited. 
Your internal team might handle strategy and planning, and then bring in a design agency for a rebrand, a web development agency to build a new site or app, a traditional media agency for bookings, and a digital media agency for PPC and social media advertising. 
The core benefit of this model is cost savings, coupled with the capability to have "the best person for the job" for every job. 
Pros
Specialists Handling Specialized Tasks
Everyone has their strengths and weaknesses. This model seeks to always have experts doing what they do best. 
Strong In-House Direction
Your in-house marketing team always has direct knowledge of what's going on inside the company and can direct their actions to support those efforts. 
Competing Contractors
We're all at our best when we have something to prove – proponents of this model say that by having multiple agencies working on a single account, you get the best work out of each one.  This is, of course, not proven.
Cons
Heavy In-House Demands
Managing an ecosystem of agencies and specialists can become a job in and of itself, sidelining your in-house marketing personnel from their core tasks, and eating up substantial amounts of time. 
Lack of Accountability
If something goes wrong with a digital campaign, who decides what went wrong, and how does it get fixed? Is the problem with your in-house personnel who devised the strategy? Is it with the design agency that created the ads, or with the PPC agency that ran them, or with the web developers who created the landing page? Whatever the case, it's unlikely that any single contractor is going to say, "Oh, it was me!" This can create serious challenges when it comes to troubleshooting issues. 
Challenges with Coordination 
Even under the best circumstances, coordinating a large team made up of several different companies can be a challenge. Getting everyone on the same page, cooperating when needed, and working towards a common goal, with a common brand/campaign tone and design language, is no small task. This option can suffer from real-world complexities. 
"A multiple-agency effort wound up with a disjointed effect in our print ads, radio ads, campaigns, and more, affecting their impact and reach. But we were able to find success through an extension of our in-house team, creating more cohesive campaigns, new reach, and increasing brand awareness." 
[Client on consolidating their marketing efforts]
Option 3: Use a Single Agency as an Extension of Your In-House Team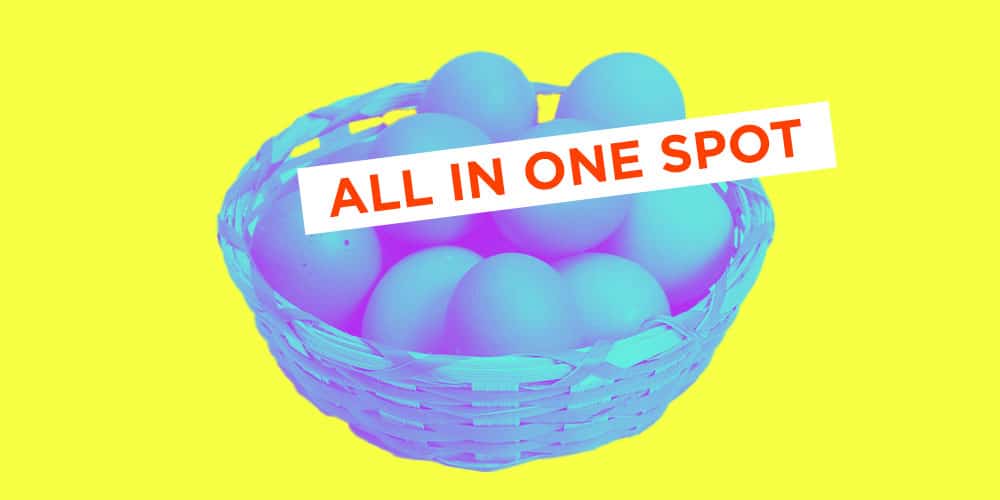 In our opinion, this is the Goldilocks' "just right" option. 
With this approach, your small but capable internal marketing team is supplemented by a single agency, acting as an extension, that either handles tasks directly or coordinates all outside tasks. 
Your internal marketing team can focus on what they do best, and your agency can serve as an extension of that marketing team. That extended team works closely on planning and strategy, serving as a single source for flexible marketing capabilities, overseeing any additional outside resources.  
Pros
Single-Source Accountability + Internal Knowledge
The buck stops with your agency extension, while your internal marketing team still has critical internal product and business knowledge to drive successful marketing efforts. 
Flexible Resources
Most companies have marketing needs that ebb and flow and lack consistency in a single area. This option gives you a consistent structure and points of contact, with the flexibility to direct your marketing budget where it needs to go, on a month-to-month, day-to-day, or even hour-by-hour basis.  
Fostering Productive Collaboration
Experience has shown us that this arrangement fosters the most productive scenario for collaboration. Your internal marketing team represents the company, market, and product expertise. The extension is the marketing and outreach expert.  
Cons
You're Putting a Lot of Trust in a Single Partner
This is no different than option #1 but is less risky since you have internal marketing professionals working closely on a day-to-day basis with your marketing team. 
It would be unfair if we didn't list a single con to balance our preferred model ?
Also, our clients like it too:
"Echo-Factory was there for us. They held our hand and stayed with us throughout…The other agencies just pointed fingers. It turns out E-F helped solve something that wasn't even in their scope of work or their fault."
Our Favorite, and What's Right for You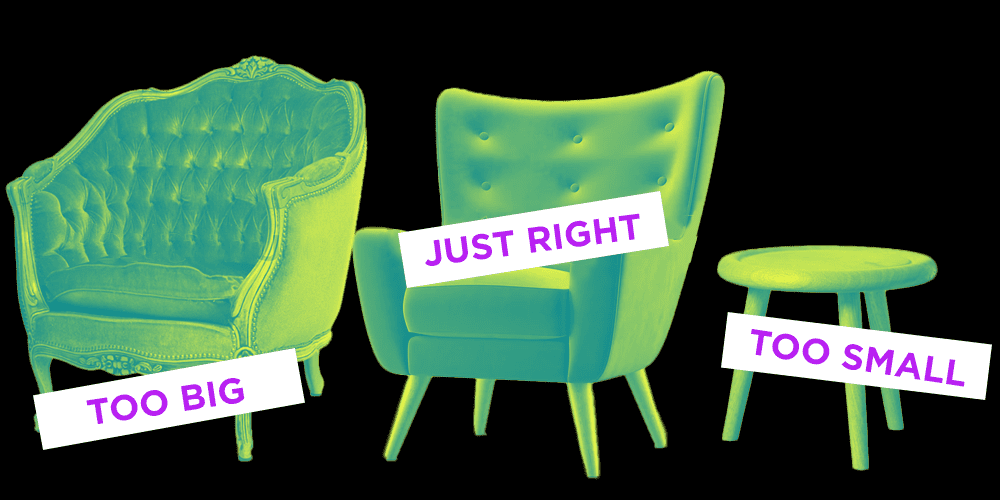 Some companies prefer one model to another, just like there are companies that can successfully utilize all three options. And there may be reasons why our favorite model isn't the right one for you. 
Some larger enterprises can overcome the obstacles of options #1 and #2, readily coordinating a group of specialist agencies with their internal experts in each of the targeted fields. They also likely have more resources. For many small and midsize businesses, however, the obstacles of those models can be insurmountable.
With a single-source agency working as an extension of your brand's internal marketing teams, option #3 is the model we see most frequently leading to success. 
Option #3 eliminates conflict and promotes accountability. It builds collaborative environments, providing the internal expertise your agency team needs to deliver success without placing unreasonable demands on your executive team's time. 
While the choice is yours, you can avoid the "too big," "too soft," and" too cold" marketing options with this "just right" model. 
Although we can perform all three models, Echo-Factory has pursued a model where the marketing agency extends your team. This model works best for brands with growth goals (e.g., leads, revenue, awareness) while retaining complete marketing control.  This model also enables the brand to develop customer intimacy as a value discipline supporting retention and improving customer lifetime value. 
Let's have a conversation if your company is looking for a brand marketing agency that extends your internal team. We partner with brands coast-to-coast and globally from our office in Pasadena, California.