When Friday Coffee Meetup started, we never imagined that the gathering of 12 like-minded professionals would grow to include over 6,000 members. But grow it did. Since its inception, our little group of techies, business folks and innovation pioneers has blossomed into a full-on phenomenon — largely because of the impressive roster of speakers that we've hosted over the years.
Every week, we bring in a selected speaker from a long list of member nominations. As of now, we've hosted over 300. Crazy, no?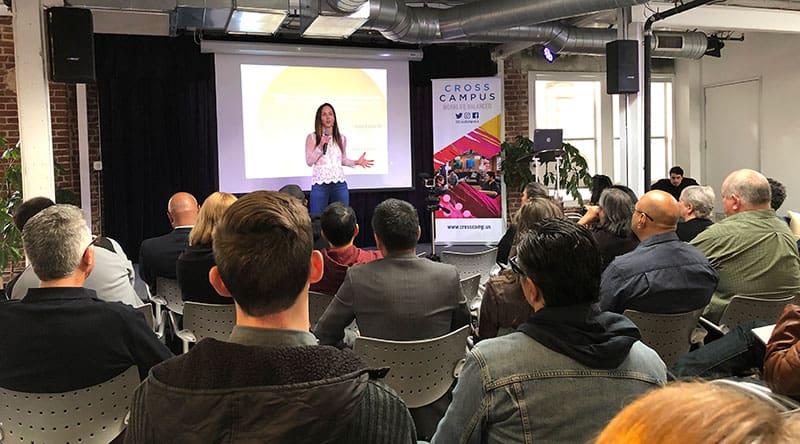 Topics are far-reaching, but always interesting and engaging. Want to get insider tips on securing startup funding? We got you. Ever thought about creating an AI version of yourself to hang out with your kid when you're at work? No? Well it's here for you if you're interested. Seriously … we're not kidding.
To get you amped for our next Meetup, we've included five great talks from some of our recent gatherings. Read on, listen to their work and get inspired. And if you want to see one IRL, you know where to find us.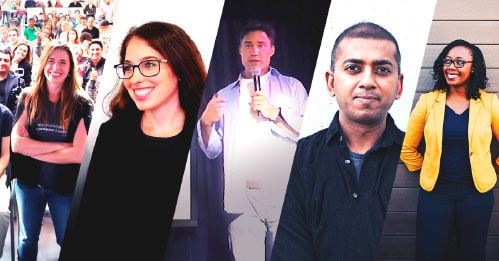 Erin Beck: Space to Startup
Aerospace engineer, innovator and "momtrepreneur" Erin Beck started her journey toward founder and CEO of Wana — a family-to-family babysitting startup — as a Mission Director for SpaceX. Erin is a believer in cross-disciplinary learning, and her presentation shares the inspiration she drew working for the "brilliant … singular-visioned" Elon Musk. It offers pragmatic insights on self-presentation, and draws parallels between lessons learned from high-stakes space missions and world travels and the process of starting your own business.
Helen Wexler: 3D Printing a Colony on Mars
Architect and innovator Helen Wexler shares how resourcefulness, ingenuity and imagination secured her team of architects a spot in NASA's Centennial Challenge of planning a colony on Mars. In her talk, she details how 3D printing, source materials and architectural engineering are being used to craft a wildly innovative future. A fascinating look into how technology leaders work to transform science-fiction visions into a very likely reality.
John Waller: What VCs Look for When Funding a Startup
Venture capitalist John Waller shares concrete, practical advice on securing funding for your startup idea. As an industry insider, his insights into what VCs are looking for are extremely valuable. A must-watch for anyone in the startup world.
Nikhil Jain: The Future of Personal AI in Pasadena
The future is now. Nikhil Jain and his Pasadena-based company ObEN are at the forefront of developing a somewhat controversial technology: an AI-based avatar copy of you. It looks like you, sounds like you and even has your personality. Whether you find this absolutely thrilling or deeply disturbing, you can't deny that it's completely fascinating. Have a look and be inspired — either to plan your double life or to start writing your best-selling dystopian novel.
Adaobi Gwacham: Principles of Growth
Originally from Nigeria, Adaobi Gwacham shares her inspiring story of how a chance encounter with Chick-fil-A inspired her to study business, open a franchise in Pasadena and streamline service to transform a $10,000 investment into an $8 million business. Her insights into clarity of vision, management skills, hiring criteria and community outreach are valuable and inspiring for any business leader.
Want more? See the list below for some other great talks to watch online, or check out our YouTube channel. You can also listen to our podcast to attend our meetups on the go! And if you know someone who you think would be a great guest speaker, you can nominate them here.
More Great Talks:
Tim Cadogan: (CEO OpenX) talks about his experiences building Open X
Ken Goldstein: From Carmen Sandiego to Vroman's
Clark Benson: The Roller Coaster Ride to 40 Million Monthly Users
Tracy Randall: The Ups and Downs of a VC-backed Start-up
Ashley Crowder: The Making of a Hologram: Bootstrapping an AR Company
Paolo Pirjanian: Robotics and Entrepreneurship – Lessons Learned