Healthcare marketing isn't just about making great ads, but a good ad doesn't hurt.
At Echo-Factory, we're a strategy-first healthcare marketing agency. We believe in identifying the problem our clients are trying to solve, then developing and executing a strategy that does just that.
Sometimes "a great ad" is part of that strategy. And we've done some healthcare marketing campaigns we're very proud of.
But for this exercise, we excluded our own work to come up with a list of six of the best healthcare ads from recent marketing campaigns, each representing a lesson that healthcare growth agencies could apply to their work going forward.
Here they are.

Hipster Disease in Wyoming
Advertiser: Wyoming Health Department
You want to kill the mood at Thanksgiving? Bring up the topic of vaccinations.
Healthcare marketers (and conflict-averse Thanksgiving participants) tend to shy away from hot-button issues, but the Wyoming Department of Health took a different tactic.
In the summer of 2023, hot on the tails of COVID-19, the health department in one of the least vaccinated states in the country addressed the issue head-on: with humor.
Key Takeaway: Humor, done well, can disarm controversial topics.

Keep Making Plans With OhioHealth
Advertiser: OhioHealth
Cancer is a bummer, in the worst way possible. So, how do you promote cancer care with optimism?
It's tempting for hospitals to focus on the fancy new cancer technology they just invested in, or the ranking they just got for cancer care in U.S. News. It's possible you could execute successfully on those well-worn paths, but we like the very different direction that OhioHealth took with their Keep Making Plans campaign.
Key Takeaway: Focus on the result, not the process.

"We Got a New Piece of Technology" Is, for Once, a Compelling Direction
Advertiser: Inspira Health Network
If you've worked in healthcare marketing, you've no doubt encountered the familiar phenomenon: A hospital buys an expensive piece of equipment and thinks patients will be really excited to see ads around that piece of equipment.
Of course, you and I know that patients don't actually care about the $6 million that the hospital spent on a fancy new MRI, the $100 million specialty treatment wing or even the expensive new robotic surgery tools.
Unless, that is, we can find a creative way to make them care.
Which is exactly what Inspira Health did.

Key Takeaway: Patients don't care about "capital improvement projects" unless you find an awfully creative way to make them care.

For Your Consideration: A Hospital
Advertiser: Providence Saint Joseph Medical Center
If you live in Los Angeles, you'll be quite familiar with the "For Your Consideration" ads that show up every year around the film-industry award season: Hollywood studios trying to get various members of the entertainment industry to pick their shows for the Oscars, Emmys and more.
Patients of Providence St. Joseph, based in Burbank, CA, experience this every year. So, the hospital decided to spoof the phenomenon in a clever campaign.
Key Takeaway: Don't tell your audience how you're a part of their community; show them.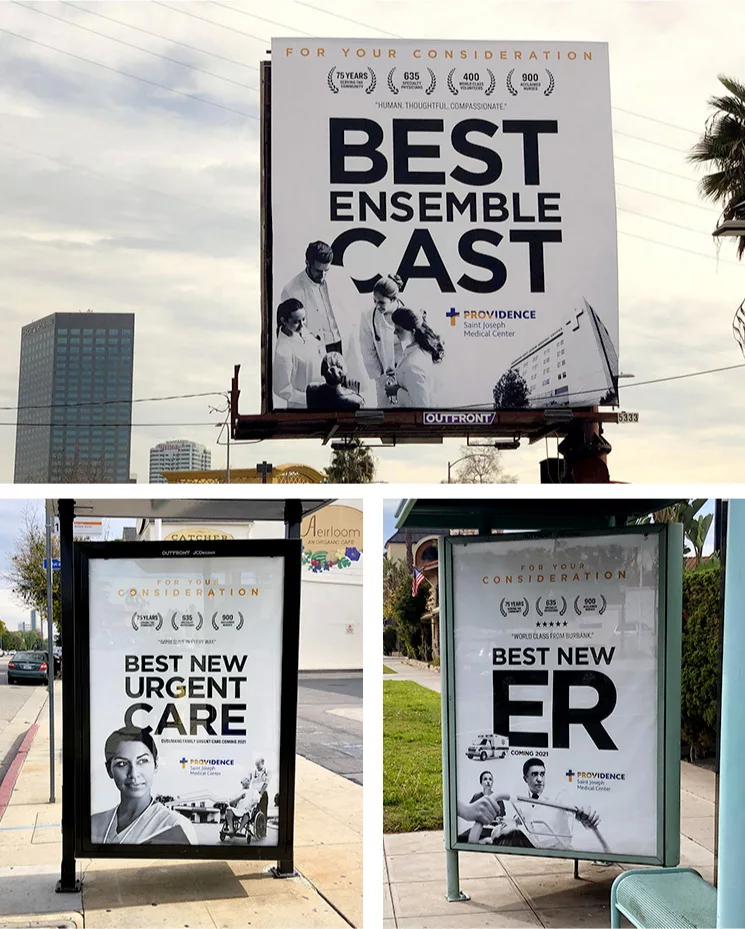 Swipe Right to Meet the HCP of Your Dreams
Advertiser: Zocdoc
We all like talking about ourselves, but sometimes it's better to engage our audience at the point of their needs.
Which is exactly what Zocdoc did with their "Gets You" campaign.
Key Takeaway: Put yourself in your audience's POV.

Bonnie Tyler for Children's Health Dallas
Advertiser: Children's Health
"Total Eclipse of the Heart" is an all-time banger; I think we can all agree on that unequivocally. It also came with a fantastic music video featuring Bonnie Tyler's mind-blowing hair, and was remade into a fantastic literal music video.
All that's very obvious. What wasn't obvious was how perfect it is as the backing for an ad for a children's hospital.
Oh sure, "Total Eclipse" is great for a Dos Equis parody, but sick kids?
Grab your tissue box and watch Children's Health Dallas' "Incredible. Together. Anthem."
"Bonnie Tyler makes you empty your bank account to support a children's hospital in Texas" wasn't on my 2023 bingo card, and yet here we are.
Key Takeaway: Bringing two things together that don't seem to belong together can have incredibly powerful results.

Let's Create Your Next Great Healthcare Marketing Campaign
If you're a healthcare organization looking to reach your audience more effectively, we can help. We've been working with hospitals, health systems, medical groups and medical technology providers for more than 15 years, helping them to grow and achieve their marketing goals.
We'd be happy to help you. Just reach out.